About Randy
I was born April 2, 1952, and raised in Topeka, Kansas. My mother went to the hospital early on April first in labor, but I was apparently only fooling and didn't make my entrance until the next day. I loved music from an early age. I remember hearing Elvis and the rest of the early rockers in kindergarten. My early musical influences included The Beatles, Bob Dylan, Eric Clapton, The Byrds, The Lovin' Spoonful and, a few years later, Eagles. I remember shortly after The Beatles appeared on Ed Sullivan's show, I made up a song in my head and sang it to my mother to see what she thought. Her response was, "You didn't make that up". Perhaps her disbelief in me at the time spurred me on to prove that I could too write songs.
I guess my actual music career began when I began to teach myself to play the drums and the guitar at about age 14. My parents had actually gotten me an acoustic guitar from Sears for Christmas when I was 12, but it was a really bad guitar, with really high action, and it was extremely hard and painful to play, so I put it away and decided that drums were probably a better choice. At age 14, my parents gave me a drum set. When my pop would complain about the racket, my mother would say, "At least we know where he is". My pop would respond, "The whole neighborhood knows where he is". That same year, I met a kid named Danny Wood at school, who would become my best friend. Danny had an old Kalamazoo solid body electric guitar. I was amazed at how much easier it was to play than my old piece of wood, and so I started anew to master the guitar. It was then that I started organizing and performing in bands. Writing and singing my music soon became a passion for me. In High School I formed my first band "DRY HEAVES" with my friends, fledgling guitarist, Danny Wood, and beginning bassist, Gene Vice, and we played for some church programs. We tended to gravitate towards blues material made popular by British musicians at the time, like Eric Clapton. I tried to imitate blues artists like Ray Charles, Chester Burnett (Howlin' Wolf), and Taj Mahall in my attempts at singing and songwriting.
Later, I decided I should move away from drums, and focus on guitar and harmonica to allow myself more freedom to be the front man. When I was invited to join with a more established group of musicians, to be their front man and principle lead vocalist, I agreed to join them. This band, "SCYLLA", performed standards of the time (1969 -1970) with a few blues tunes and actually made a little money, but when I turned 19, my church called me on a mission to Guatemala and El Salvador for two years, and so I theoretically put my musical career on hold for a time.
While in Central America though, I teamed up with four other musicians and created a musical show that toured throughout Guatemala and El Salvador. With my new singing group "LA FAMILIA UNIDA", I performed in concerts and live radio and TV shows across the mission. The material we performed at our shows was mostly pop and folk material in Spanish, but we gravitated to our favorite country and rock songs—the bluesy material—when we performed off-stage, for our own entertainment and to entertain our fellow missionaries. And, I continued to write.
When I returned to the United States, I looked up some of my old band mates from SCYLLA, who were now known as "BLUE BEARD", and with a couple of new musicians, I recorded, produced and pressed my first two-sided single—two of my original songs which I had written in the mission field—"Sunshine, Come Back to Me" and "Power to See". I was able to get some airplay and sales of the record in the local Topeka market, so I concluded that it was time to form "THE RANDY MUNDY BAND". I returned to the studio with my new band and recorded ten more tracks of original tunes. The material ranged from Rock and Pop to Country-folk and Blues. THE "RANDY MUNDY BAND" had local airplay of several songs in the Mid-West, including songs that got into the Top 10 and Top 40 during the next couple of years. The recordings were later released independently with a couple of songs recorded in Utah as the CD, "Celestial Skies." When I left the band in 1978, I determined I needed to head west for greener pastures.
II was on my way out to Los Angeles, but thought that I would stay with my buddy, Danny Wood, in Utah for awhile—the while turned into two years, doing some more recordings and working for a music production company there. This is where I met, dated, and married my wife, Karen, and lived for a short time after we were married. Karen Preece had grown up in San Diego, California, listening to The Beach Boys, Eagles, Chicago and Linda Ronstadt. Her dream, she told me, was to be a rock star. She learned to play the piano and guitar and performed every chance she could. She had a great voice and great inner and outer beauty. While we were dating, we began to sing together and discovered that our voices, as well as our personalities, melded well together. Karen became my partner in life as well as music. While in Utah, I appeared in the European film production of Paradise Reclaimed and began working with a new group to be called "THE TEAM PLAYERS". Though we recorded a half dozen or so of my tunes for a prospective album project and a couple movie projects, financial support for the various projects fell apart ,and Karen and I decided to go on to California.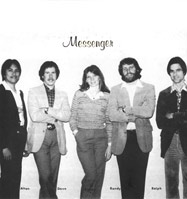 Karen and I eventually moved to L. A. and began raising a family—eventually five children would join the act—while still pursuing music, recording my songs and playing clubs with a new band, "MESSENGER" which included my wife, Karen, and a singer/bass player, Dave Wayt—Dave would be a reoccurring character in the Randy Mundy saga, guitarist, Ralph Edson, and drummer Alton Coraton, While in LA, I recorded at the studio of Jim Pike, of The Lettermen fame, and co-wrote my song, "Hold Me Tight" with Jim. I might also mention that I took some music courses at a local community college at this time.  I had been teaching myself piano since high school, writing some of my songs on the piano, and I wanted to learn some technique for the keyboard and learn some music theory, to better understand why the things I did intuitively as a songwriter worked, and to see if it would help me become better at it.
After 5 years in Los Angeles, we moved our family to Nashville, TN. For the next 11 years in Nashville, as often as time would permit, Karen and I recorded my original material and performed at "writer's shows" around town. We appeared on a nationally televised music program, made live radio tapings, and did session work at local studios. We formed a band called "NATCHEZ TRACE", a country rock act, with long-time friend and music partner, Dave Wayt, and several other like-minded musicians, and recorded an album under contract with Treasure Isle Recorders, which I later released independently as "Life on the Run".
While in Nashville, I played parts in two CBS television projects: a made-for-TV movie, "The Conviction of Kitty Dodd" and an unnamed TV Pilot for country singer, Lorrie Morgan. I also played the part of "Tevye" in a church production of "Fiddler on the Roof". "NATCHEZ TRACE" eventually devolved into MUNDY, MUNDY & Wayt, and when Dave Wayt moved his family back west, Karen and I continued to perform as MUNDY MUNDY.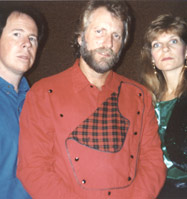 When my mother's health began to fail, Karen and I decided to leave Nashville and return to my home town of Topeka to care for her. While in Kansas again, I continued to write, and with Karen, teamed up with Lloyd and Kim McDonald, to form the performing and recording group, "MUNDY MUNDY & THE HEARTLAND BAND". While in Kansas I released my earlier recordings from Topeka, Utah, California, and Tennessee as "Celestial Skies" and "Life on the Run" and I recorded and released three more CDs, "On Solid Ground", "From the Heartland, and "Seasons", which we recorded at Lloyd's Heartland Studio.

Now, my base of operations is again Utah, having relocated there after my mother's death in 2006, to be closer to Karen's family and help care for her ailing mother. Karen decided at this point that she did not care to actively perform live any longer and that she wanted to devote herself to other pursuits. Not wanting to be creatively idle, I continued to write, record, and perform my music live. I have returned to my love of the blues and have since recorded four CDs devoted to my original blues and jazz tunes—"Blue Mundy (Part 1)", "Blue Mundy (Part2)", "The Kansas City Kid" and "There's Trouble Everywhere"—with my new performing group, "RANDY MUNDY & THE MUNDY MOURNING BLUES BAND". I also released another CD, 'Still Kickin'" with Karen, as Mundy Mundy, and a CD, "Through the Years", of songs featuring Karen's lead vocals. And I recorded and released a CD, "Odds and Ends", as Randy Mundy, of never recorded material I had collected over the years that I didn't think fit into other projects. Life is good when you can do what you love.